Vericlean is a professional office cleaning
company that offers :
.
Friendly, reliable, fully trained cleaners.
.
£10 million insurance for your peace of mind.
.
Compliance with all current health & safety legislation.
.
A consistently high level of service from a family owned
cleaning company.
.
Over 40 years experience.
.
Great cleaning at great prices!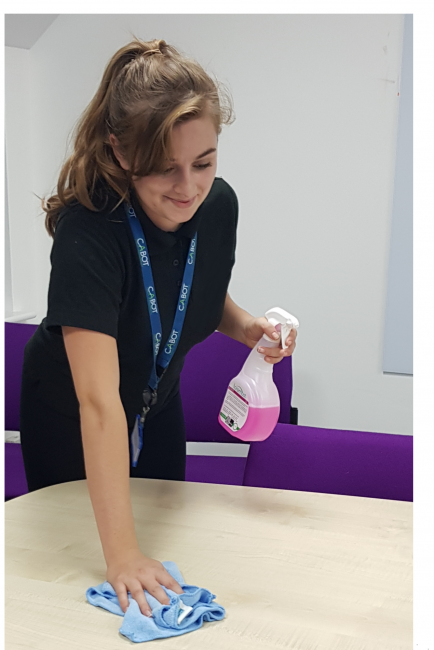 .
Call us now for a free quote 0800 689 1983 or click here. Corona Virus (Covid -19)
---
Who we are
Vericlean is a family owned cleaning company operating in East & West Sussex serving Brighton, Worthing, Crawley, Littlehampton, Horsham, Newhaven & surrounding areas since 2006 providing high quality office cleaning services to commercial customers. Our office cleaning processes are good for the environment and we carry out green cleaning in offices and factories in East & West Sussex. For all your office cleaning needs in Sussex call Vericlean, all of our cleaning operatives are fully trained and insured. You can be confident that our Sussex & Surrey cleaners will meet all your expectations. Why not put our office cleaning experience, product knowledge and attention to detail to work for you and get a comprehensive cleaning solution you can count on.
Vericlean Support Services is the smart choice for commercial cleaning services along the A23. A family owned business that has many years of experience as office cleaners. Vericlean provides you with fast, efficient and regular service that frees you from having to manage your cleaning chores. As a company policy Vericlean practices and promotes green commercial cleaning methods and products that are environmentally friendly and safe. This is not only is beneficial to the environment, it means that your employees and premises are also safe from harsh detergents and chemicals left behind in your office.
We can provide our office cleaning services on a daily, weekly or monthly basis and we're available both during and after normal office hours to meet with the needs of our clients. Our friendly and efficient uniformed staff are well-managed and trained and we provide on-site audits to ensure the quality of our services. Our workers are insured for public liability up to £5 million and for employer's liability up to £10 million. We provide complete risk assessments and method statements and we strictly adhere to all the requirements under the Health & Safety at Work Act of 1974.
---
Warehouse, Factory and Industrial Premises
We also are well-versed in the commercial warehouse cleaning and light-industrial factories in Brighton and East Sussex, and we can offer you an initial, one-off deep clean service which will set the standard for the level of cleanliness that we will continue to maintain on a regularly scheduled basis.
Washroom Services
For our washroom and laundry services, we provide a complete range of fragrances, soaps, janitorial supplies, paper products, sanitary disposal bins for women's hygiene products and nappies as well as vending machines that will be regularly maintained and stocked. We also supply entrance mats in an array of colours and styles, as well as bathroom roller towels and tea towels that will be regularly laundered and replaced.
A Brighton Family Business
Vericlean is owned and run by Robert and Michelle Hearne who, from their headquarters close to the A23 have over thirty years of experience in the commercial cleaning industry. Together we set a standard of service in Brighton that makes Vericlean the clear choice for our regular commercial customers. The manner in which we manage our professional staff of cleaners helps to ensure the standards that have been learned by us over our years of experience can be maintained today with our valued customers.
Specialised Services
We also specialise in providing carpet, windowand washroom/laundry room services. For our carpets we use the powerful Ninja portable system of carpet cleaning. We also provide both dry-powder and hot water carpet cleaning. In our commercial window cleaning service we utilise the 'Reach n' Wash' water-fed pole system which enables us to clean windows up to 50 feet off the ground without having to use a ladder. For those jobs that do require the use of a ladder or other means to reach the windows, we maintain the utmost in safety precautions and perform a complete risk assessment before we undertake a windows contract. Our window team are also 'working at height' compliant safety rules, having been trained in the craft of window cleaning by the British Window Cleaning Academy.
---
Call us today on

0800 689 1983

to learn how we can provide your office or business
with any commercial cleaning services
We have always found Vericlean accommodating and professional, their staff are polite and helpful.
Director,
Astound Facilities Group