Corona Virus Covid-19
.
Sanitiser Disinfectant Spray Active Protection For You
.
Our office sanitiser spray contains active biosides specifically designed for cleanising and disinfecting hard surfaces.
Using revolutionary mist spray fogging technology we can clean and sanitise any area even the hard to reach.
Ramsol is alcohol free and meets BSEN 1276 &1650 requirements and is effective against a wide range of corona viruses and type A influenza viruses this group includes swine flu, chinese and japanese flu strains, wisconsin avian influenza and SARS.
This product deals with an extensive list of bacteria, viruses, fungi and moulds including the notorius MRSA, E-coli HIV-1 hepatitis B&C and poliovirus type 1.
This product can be applied to all hard and soft surfaces is non staining, non corrosive and leaves a streak free finish on most surfaces including glass and stainless steel.
.
Active biosides give effective and residual action.
Kills 99% of bacteria.
Meets all requirements of BSEN 1276 & 1650 for food handling area sanitisation and disinfection.
Alcohol free.
Safe to use on skin.
Can be used in offices, kitchens, washrooms and any work or domestic environment.
Active protection for you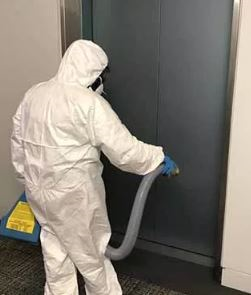 .
Get your offices ready to work again
Call us today for a free quote 0800 689 1983
or
click
Vericlean Support Services Limited covering Brighton & Hove, Worthing, Lancing, Horsham, Haywards Heath & Burgess Hill, Newhaven, Littlehampton & lewes.
East & West Sussex